Last Updated: 11/25/08



We Specialize in Fly Fishing


A few thoughts on the closing of Ernie's Casting Pond from Ernie and Diane....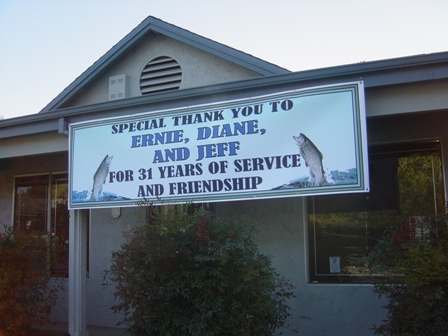 As the days move toward the closing of the shop, we are so touched by the sentiments expressed by all . . .sadness to see the shop close but genuine joy and congratulations for us as we reach quite a milestone in our lives. Thank you for your great expressions of happiness for us and for your interest in what we will be doing. Going fishing, of course! January and February we hope to be fishing on Oregon's famed Alsea River for steelhead and also on the Nestucca in northern Oregon. We also have a trip planned to Antelope Creek in Northern California and also the Klamath River. We have been overwhelmed by the number of invitations we have received to join our customers on their favorite streams, whether they be in Montana, Colorado or Idaho. We are looking forward to it all. A special thank you to those of you who attended our barbecue and especially to Chuck Mueller who posted a beautiful banner on the shop on the day of the party with special thoughts for us. Thank you Chuck. Thank you all!! We plan to maintain our page here and hope that we may stay in contact with many of you. We will continue to post our travels and hope that you will send us word and pictures of yours.

If catching 18" to 25" beautiful rainbows sounds like fun, then a trip to the Tatlatui Wilderness Lodge in British Columbia would be the answer!! We have just returned from 5 days in one of the most beautiful places, we believe, on earth!! The mountains are spectacular and nestled among the mountains and trees, are the many alpine lakes, wild flowers and beautiful streams that are home to healthy, strong, beautiful wild rainbows!! The lodge offers flyouts to other streams in the area and we took advantage of this. We flew to a trophy lake, where we caught fish in the 25" range!! We also flew out to the Firesteel River where we got into our backing on two fish!! A third flyout was to another stream and spent the day casting, catching, and landing these wild fish. Although we were apprehensive about the flyouts before we arrived, the first trip out convinced us this is THE WAY to go!! Fun and so much beauty!! The Collingwood Family are great hosts! Email for information - flyfish@tatlatui.ca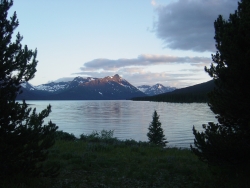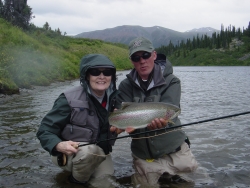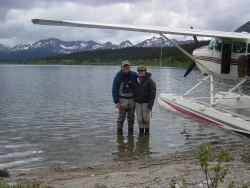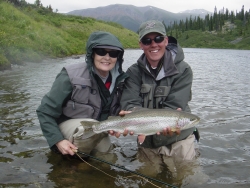 AT ERNIE'S, IT'S TIME TO GO FISHING!!
Ernie's has a great selection of rods, reels, lines and every accessory needed by the active flyfishermen. We now have in stock all the newest technical gear for 2008 in both fishing tools as well as apparel for cool and comfortable fishing. Our large and complete flytying department has materials for both salt water and fresh.
Come by and see us!

Come by and check out all the new gear that is arriving. We have the NEW Sharkskin line from Scientific Anglers in stock already and as well as other 'new for the season' rods, reels, waders and shoes. Rio lines are really coming on strong and we are carrying a larger inventory of their new lines as well.

Steelhead Season 2007/2008: Another steelhead season comes to a close . . .we had really nice water compared to last year. With no rain in December the season began slowly, but with the rain in January and February, the water was in good shape and fish were caught. It was a fair season, but fish were hot!! Wilder and larger than last year. Popular flies were muddlers, wooly buggers, glo bugs, and trout nymphs. Successful lures were Flat Fish, Little Cleo AND pink, plastic worms!!

Trip to Northern CA, August, 2007...
Due to fires in Central Idaho, our trip to the middle fork of the Salmon River was cancelled just two days before we were to leave and we were very disappointed!! With a chance of catching some fish just coming into the Klamath River, we called Mike Kuczynski. Mike owns the Eureka Fly Shop and as been successfully guiding the Klamath for years. After confirming he would be available to guide us, we headed north. Mike met us at the Steelhead Lodge in Klamath Glen and after getting our gear into his boat, we headed upstream. Mike had arranged for us to stay at Rivers West Lodge, several miles upriver and accessible only by boat, for the night with dinner that night and breakfast and lunch the following day. After delivering our luggage to our cabin and meeting our hosts, we were on the river and fishing by 2:00. By 7:30 we had caught and released several adult steelies and as we headed back to the lodge, a soft rain began to fall. Perfect steelhead weather!! Adding to the weather, and the beautiful fish, we had a great steak dinner. Rain on our cabin roof most of the night sounded great and we were up and ready to fish again by 6:15. As we moved up the river, the mist and rain were just a perfect reminder that another great day awaited us with the prospect of several more adult fish to catch and release. Swinging the fly with a floating flyline and the herniator worked for us.l We also caught fish on other popular flies, the assassin and the mossback. That afternoon on the way downriver to our car, we were shocked when we saw a large mountain lion on the river bank, who had just killed a large calf and was working hard to drag it back into the woods. We watched this amazing sight for about 25 minutes. Although we had not planned this trip a head of time, it could not have been more perfect nor could we have had a better fishing trip.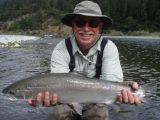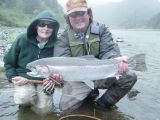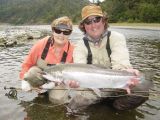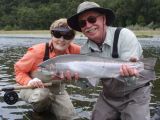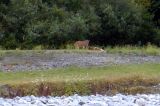 BEACH, COLD WEATHER FISHERMEN AND STEELHEADERS
We are proud to announce that we are now an authorized dealer for the NEW Simms Custom Pro-Shop for Bootfoot Waders. What this means to our customers is that we are now able to fit you with the award winning MUCK boot on any wader in the Simms line. These boots are light weight, durable and have a 100% insulated shell. They are available in both lug and felt sole. ALSO, we have the NEW EXTREME bootfoot wader . . . with the latest in fabric technology that truly make them THE warmest as well as THE MOST breathable bootfoot wader anywhere. You will be impressed with these quality waders. Be ready for steelhead season as well as any cold weather fishing ANYWHERE.

A GREAT DAY ON THE ROARING FORK, BASALT, CO JULY 3,2007
The river had just "turned on" and my son Jeff and I spent the day floating the river from Basalt to Carbondale. First fish caught was on a cone-head streamer, before the caddis hatch began. It was a beautiful 20+ rainbow and a great start to a very productive day!! Jeff and I caught fish all along the river and as the caddis hatch errupted, we caught lots of fish, mainly browns, in the 20+ category.
The Roaring Fork runs from above Aspen and through Basalt and Carbondale, joining the Colorado at Glenwood Springs. Along the way, it is joined by the Crystal and Frying Pan rivers. It is called an 'edge stream' because most productive area is within a couple of yards of the bank. This sure proved to be the area for us.
We floated with Tom, who is one of the owners of the Roaring Fork Anglers in Glenwood Springs. We would highly recommend this shop when you are in the area. They are knowledgeable on the area rivers and great people.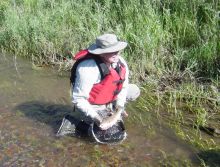 Happenings at Ernie's

Steelhead Updates!

November 6th, Dream Day
We have just returned from fishing the Trinity River in Northern California. We had a day that steelheaders only dream about!! We began about 10:30 using nymphs and an indicator, and literally were catching fish non-stop all day!! We didn't even want to stop for lunch. The fish were gorgeous, bright and acrobatic! They ranged in size from about 26" to 30+" and even caught two with tags, one tag carrying a bonus of $10.00. We also caught a sea-going brown trout. We were with our friend and rep, John Dietz, who lives in Redding and who knows and fishes the river often, especially this time of the year. What a super day for us, and to combine it with the good company of an old friend and the spectacular colors of the trees and foliage along the river, it was a day that will be in our memories forever.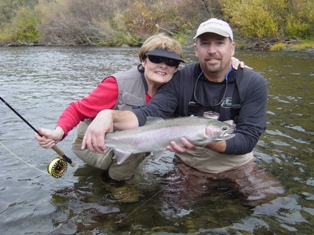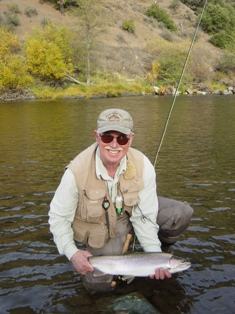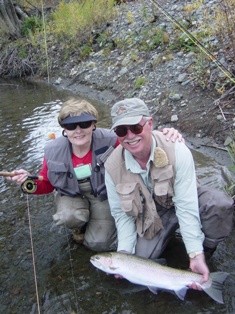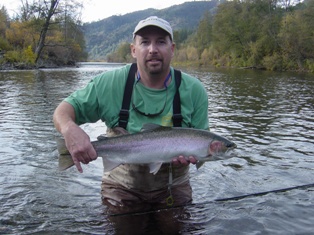 Ernie's is headquarters for all your fishing needs. We specialize in flyfishing and our inventory of quality fishing equiptment includes Sage, Winston, Orvis, G.Loomis, Abel, Galvan, Ross, Bauer, Simms, Chota, Fish Pond, William Joseph, Rio, Scientific Anglers and many others. Also, we carry gear for the saltwater angler as well as the steelheaders by Shimano and Penn. If we don't have it in stock, we will order it.
We are proud to announce that we are now dealers for the beautiful Bamboo fly rods by KANE KLASSICS. Stop by and cast one of these fine rods.

What's New for 2007!
Steelhead Season 2005/2006 Reports
Morrison's Lodge and Rogue River Fishing for Steelhead Fall 2005 The colors of fall were breathtaking as we floated the Rogue in October. Although this has been a slower than normal season for this river this year, we found it to be the best ever!! First day was slow catching, with a few small steelies to be found amid the now too abundant salmon. Second day, things really turned around as we floated a section new to us. It was the Wild and Scenic section and we began in the canyon above the lodge and floated approximately 8 miles downstream. We had just a super day taking fish from 2# all the way to ll#. What a day, all beautiful, chrome steelies. See our picures below. Morrison's, as usual, are the perfect hosts!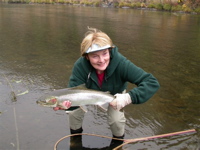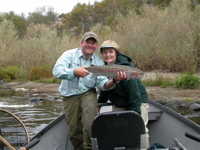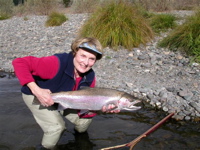 (2004) We headed to Northern California and Oregon to fish for steelhead, when the season closed here, and had a great day on the South Fork of the Eel River. Caught and released fish up to 16 pounds with guide Kevin Mellegers, who owns Mad River Outfitters in Arcata. A beautiful river and with the fish cooperating, we had a great day. Then to Oregon to fish the Nestucca with an old friend, Jack Harrell, was fun even though it was between seasons for the runs in that area. Caught one about 9 pounds.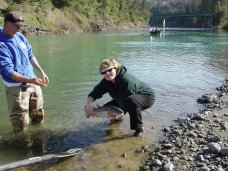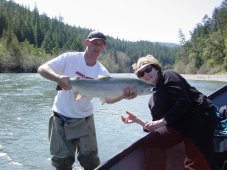 On the return home, we stopped and fished Sugar Creek, which is west of Mt Shasta in the Scott Valley, in Siskiyou County. Sugar Creek is the home to trophy trout, and it is here that our family joined us to spend a couple days trying to hook big rainbows!! The spacious lodge was perfect for all of us...nine all together...and we can't wait to return, maybe next year. Sugar Creek is for the entire family with hiking, gold panning, lots of bike trails and of course, the great fishing. It is stillwater fishing at its finest. Sugar Creek can be reached by calling 530-467-5213 or come by the shop and pick up a brochure.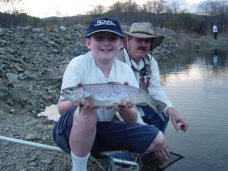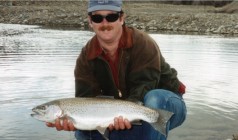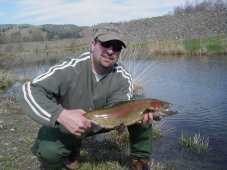 ---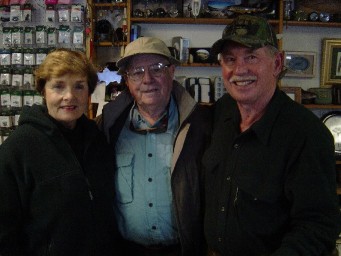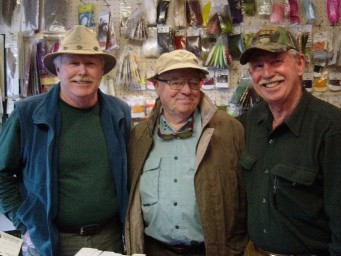 Lefty was here! What a surprise and honor to have Lefty Kreh visit our shop last week just before the opening of the Sportsman's Expo in San Mateo. Dan Blanton, Outdoor writer and sportsman well known in the Monterey Bay area, brought him down to see our shop and visit. He is truly a gentleman and an icon in the fly fishing community! It was a great afternoon, and one that will stay in our memories forever!
---

Ernie's Casting Pond is a fly fishing shop on the shores of Soquel Creek in Central California. There's some good Steelhead fishing in Soquel Creek and some of the other local streams, you can get a report on what local steelhead fishing has been like here.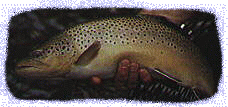 .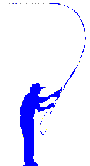 Lately Ernie's has become known as having one of the biggest links pages on the 'Net. We want to have the biggest set of links, and will gladly add a link to your page, just send us your URL!
---
This page was designed for viewing with the Netscape Navigator version 3.0 or higher on a 32-bit Windows platform, in at least 800x600 resolution.
Copyright └Ernie's Casting Pond 1997
Ernie's Casting Pond
4845 Soquel Drive
Soquel, CA 95073
(831) 462-HOOK